THOUGHT PORTRAITS
A thought portrait*...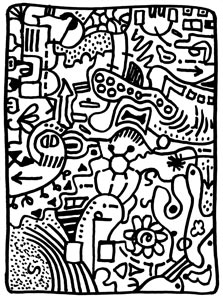 is a partially abstract drawing with a black marker on white paper
is not a portrait of a face
shows converted thought impulses to the respective person
During the drawing, I open myself completely to the person and implement what impulses will come from her to me. Often, with the spiritual eye I even see luminous forms on paper, which I simply emulate.
Experience shows that the drawings are very different for each person.
It does not matter if the person is near or far away from me.
If you like the black-and-white drawing, you have the option that I could scan it and fill it digitally with my oder your photos.
>> You see an example in my gallery

You can also book me for parties, celebrations and events!

* The term "thought portrait" is invented by me, so not to be found in the dictionary